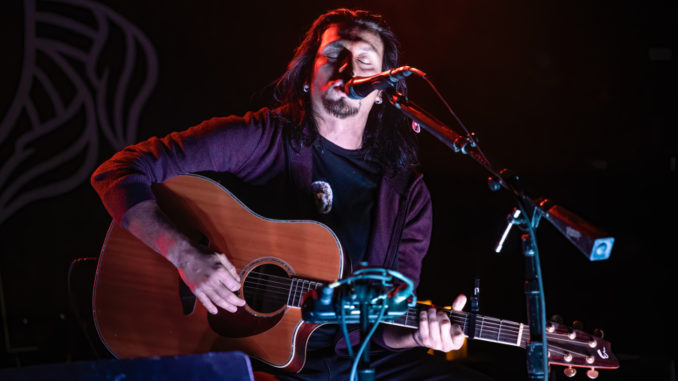 Hometown heroes Pop Evil returned to the Motor City with a very special unplugged holiday surprise for all of the good little girls and boys.
Christmas has come early for the ticket-holding, music lovers of Metro-Detroit: December 8 marks an intimate moment of musical history as homegrown heroes, Pop Evil, gift Michiganders a rare, acoustic/unplugged (and all ages) performance at Detroit's historic Saint Andrew's Hall. Despite Pop Evil's exhausting and rigorous touring schedule throughout the year, they have never neglected their home turf. In fact, one could say that Michigan gets these rare moments and added perks with the band. Fans know this, as evident by the overstuffed venue tonight as well as those big words "Sold-Out" displayed at the box office. Such a diverse crowd is here tonight: the moms, the dads, their kids… the rockers, and quite possibly even the Fockers have assembled here tonight to celebrate friends and family the Pop Evil way.
The iconic Saint Andrew's Hall stage glows warmly as dozens of pillar style candles burn in a peaceful yet festive ambiance. Frontman Leigh Kakaty walks from stage right, a smile on his face and hands of gratitude outstretched to the hordes of Michiganders in attendance. Leigh tells the crowd "Let's start the night the right way" and proceeds to lead the group in a Christmas carol style sing-a-long to the classic "Silent Night." Leigh then grabs a nearby acoustic and dives into a soulful version of the band's "100." "Rewind" comes next and Pop Evil lead guitarist Nick Fueling joins Kakaty on stage, guitar in hand as he mounts a nearby stool with a holiday smile. Fueling is followed by a special guest, the talented Mike Adkins, current guitarist for Uncle Kracker (also a Detroit native,) who is greeted and introduced to the fans by Kakaty. Adkins joins the duo for a blast from the past, one of Pop Evil's early tunes "Stepping Stone," followed by another classic from their first album, "Seattle Rain." Kakaty informs the crowd that he originally requested a full choir with string section accompaniment, along with pyro, laser lights, and fog show. Instead, all he got (jokingly pointing to a device bolted to his mic stand) was this "Speak N Spell." He then breaks out his working index finger, firing up his magic box, and gives us a quick demo of some digital harmonies that mimic a choir. With a boyish grin, he pauses to continue his monologue, saying that he is excited to make this performance an annual event for Detroiters. The crowd responds with a roar as the triad starts into "Silence and Scars," followed by a classy cover of the Verve Pipe hit "The Freshmen."
They follow this with "Somebody Like You," "Monster You Made," and the monster hit "Torn To Pieces." The crowd is alive with powerful energy and sings along with Leigh as his big vocals resonate throughout the hall. "Walking Lions" and "Don't Mean Anything" are both fan favorites as the group sing-a-long keeps rolling as the Evil fans sing along with the band's groove. Adkins and Fueling had a great chemistry and are clearly enjoying this evening's performance as they trade off licks and chops throughout the night. Kakaty brings things back home for the holidays with a smiling and festive version of "Dear Santa." The band winds things downs with "Footsteps" and ends the night on a powerful and moving version of banger "Trenches."
Although this is/was a one of a kind night of memories, you can look forward to the next installment, to return to Saint Andrew's Hall in 2020. In the meantime, you can catch Pop Evil "plugged" and louder than ever, on tour with their full crew. Check the band's official website for performance dates details and upcoming news.
POP EVIL